Make With Ada Winners Announced!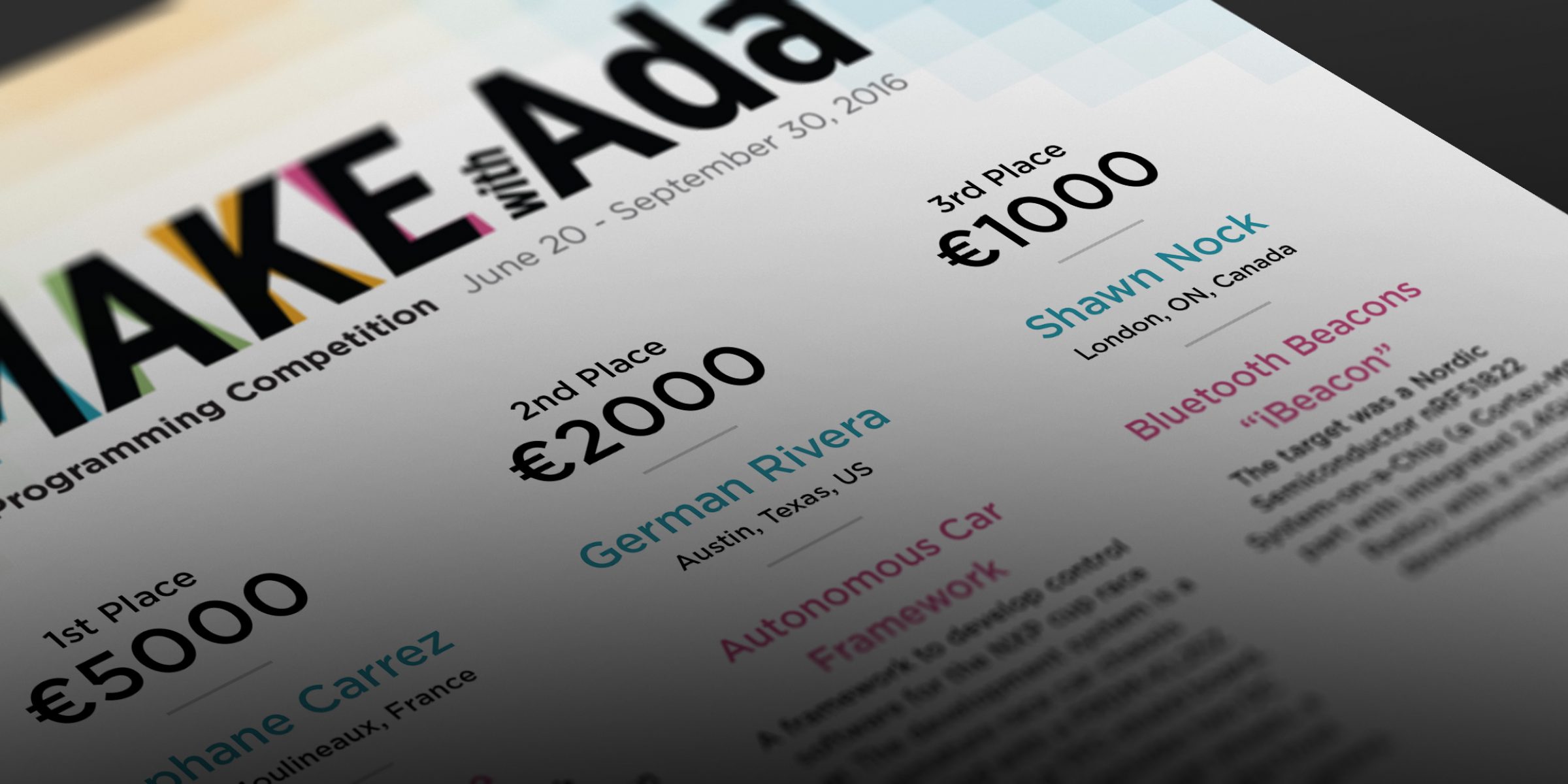 Judging for the first annual Make with Ada competition has come to an end and we can now reveal the results.
Huge congratulations to Stephane Carrez who came in 1st place this year, gaining a prize of €5000, with his EtherScope project!
The EtherScope monitoring tool analyses Ethernet traffic and can read network packets (TCP, UDP, IGMP, etc.), performs real-time analysis, and displays the results on a 480x272 touch panel. It runs on a STM32F746 micro-controller from STMicroelectronics and its interface can filter results at different levels and report various types of information.
All sources for the application are available on Github here.
In 2nd place, winning €2000, is German Rivera with his Autonomous Car Framework! The framework was developed in Ada 2012 for developing control software for the NXP cup race car. The system is made up of a 'toy size' race car chassis, paired with a FRDM-KL25Z board and a TFC-shield board. The car kit also has two DC motors for the rear wheels, a steering servo for the front wheels and a line scan camera.
In 3rd place, winning €1000, is Shawn Nock with his Bluetooth Beacons project! His "iBeacon" project targeted a Nordic Semiconductor nRF51822 System-on-a-Chip (a Cortex-M0 part with integrated 2.4GHz Radio) with a custom development board.
The two runners up received a Crazyflie 2.0 nano drone each as special prizes. The Ada Lovelace Special Prize was awarded to Sébastien Bardot for inventiveness with his explorer and mapper robot.
The Robert Dewar Special Prize was awarded to German Rivera for dependability with his IoT Networking Stack for the NXP FRDM-K64F board.
Participants had to design an embedded software project for an ARM Cortex M or R processor, using Ada and/or SPARK as the main programming language and put it into action.
Well done to all the winners and participants, we received some great projects and got the chance to review some interesting ideas this year.
To keep up to date with future competitions and all things Ada, follow @adaprogrammers on Twitter or visit the official Make with Ada website at www.makewithada.org.